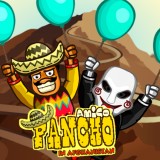 Amigo Pancho 6 In Afghanistan
Have you ever dream to take part in such a cool adventure to Afghanistan? Well, this is your chance! Just do it right now and help Amigo Pancho to avoid all the obstacles in order to reach his main goal. Do you wanna to know what do I mean? Then play it immediately!
0.0
/
5.0
-
0
Users reviews
2015-06-26 05:36:15
904
OS: Desktop
Instruction : Use Mouse/Keyboard to play.