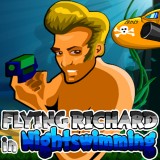 Flying Richard in Hightswimming
Save the bikini babes, cause they were kidnapped by a really strange and awful guy! Control Richard, the safeguard and save them! Use your weapon to kill all the enemies and reach the goal. Are you ready for such a challenging game? So go ahead!
0.0
/
5.0
-
0
Users reviews
2015-06-22 08:43:03
705
OS: Desktop
Instruction : Use Mouse/keyboard to play.