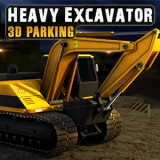 Heavy Excavator 3D Parking
Are you a good driver? Yes? Well, then we wanna to check it! Just try to park a huge excavators to win this game! If you are ready for such a challenging game, then do not waste your time and try all these exciting levels. Everything depends on you.
5.0
/
5.0
-
1
Users reviews
2015-05-28 03:35:26
1673
OS: Desktop
Instruction : Use Mouse/Keyboard to play.