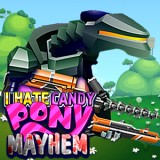 I Hate Candy Pony Mayhem
This time you will be the real robot and your task is to avoid all the obstacles, kill the enemies and collect all the required things. You have only 48 hours for the mission! So, hurry up and you will love this game. Enjoy it right now!
0.0
/
5.0
-
0
Users reviews
2015-07-08 05:47:21
1125
OS: Desktop
Instruction : Use Mouse/Keyboard to play.