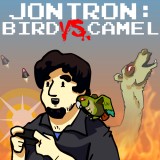 JonTron Bird vs Camel
In this game you must play as a little bird and protect your friend and kill all the camels! Do you think that it is so easy? Well, then just try it and use arrows to move and space to shoot. Be ready for that and protect him as better as you can.
0.0
/
5.0
-
0
Users reviews
2015-07-08 05:24:27
1137
OS: Desktop
Instruction : Use Mouse/Keyboard to play.