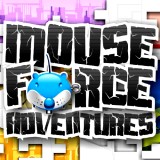 Mouse Force Adventures
This mouse is waiting for you! Cause it is in jeopardy and it has to move on platforms and click the mouse to move from up to down. Easy? Well, just try it and you will be not disappointed. Use all your skills to help these mouses. Enjoy the game right now.
5.0
/
5.0
-
1
Users reviews
2015-06-01 07:18:54
713
OS: Desktop
Instruction : Use Mouse/Keyboard to play.