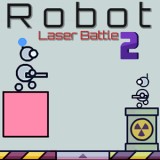 Robot Laser Battle 2
This robot really needs you! Just try to control him, but first choose the mode you wanna to play. Here you should avoid all the obstacles and kill the enemies! Use arrow keys to move and shoot! You will cope with it, be sure.
0.0
/
5.0
-
0
Users reviews
2015-06-23 10:06:13
1273
OS: Desktop
Instruction : Use Mouse/Keyboard to play.