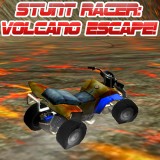 Stunt Racer Volcano Escape
How was it? You have not still tried to drive this amazing vehicle? So, do not let your chance to slip and control it! Do not forget to collect all the beams and do it in time! Are you already fascinated? Just use arrow keys and enjoy this game.
0.0
/
5.0
-
0
Users reviews
2015-06-22 08:45:49
890
OS: Desktop
Instruction : Use Mouse/Keyboard to play.