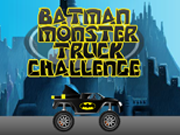 Batman Monster Truck Challenge
Help Batman to steer the monster truck on a junkyard full of rusty things, old cars and water obstacles. It's not easy to stay behind the wheel of such powerful machine and keep balance while the truck is going up and down the road. This is yet another driving batman game from batmangamesonly.com .There are 10 levels ahead all with different backgrounds and arrangement of obstacles.
5.0
/
5.0
-
1
Users reviews
2015-03-05 04:57:11
997
OS: Desktop
Instruction : arrow keys to move forward/backward and keeping balance.