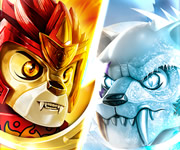 LEGO Chima Tribe Fighters
Pick your side, choose your tribe, and fight your way through endless waves of enemies in LEGO Legends of Chima: Tribe Fighters! - Fight for the Protectors of Chima using the Lion or Crocodile tribe, or for the Ice Hunters using the Ice Bear or Saber-Tooth Tiger tribe. - Go hand-to-hand with the Melee Warrior, choose distance over power with the Blaster Ranger, or summon magical bolts using the Tribe General. - Collect CHI to unleash devastating special abilities. - Complete challenges and smash LEGO objects to earn studs to upgrade your characters' power, defense, and special abilities. - Build your tribe��s flag and call in additional support to level the playing field. - 12 awesome characters and 4 unique environments in all.
5.0
/
5.0
-
1
Users reviews
2015-04-27 09:27:14
942
OS: Desktop
Instruction : Arrows or Mouse to play.