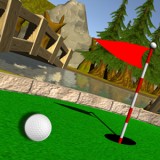 Mini Golf Woodland Retreat
Do you have what it takes to make all the holes under par, in Mini Golf Woodland Retreat? You need to avoid holes, traps and putt your way through a huge variety of obstacles in this fun mini putt game. Can you chip the ball and maybe even jump a section of the course? That's certainly how i play anyway. Use the jump boards and ramps to your advantage where you can. This is a truly relaxing and peaceful take on the sports game. That's not to say it's easy. you're certainly in for a challenge. Just simply one that is set in a stunning fantasy woodland scene. So if you're looking for a new golf challenge and think you can take on all these holes. Then what are you waiting for? Give it a try!
0.0
/
5.0
-
0
Users reviews
2015-07-13 07:56:53
2095
OS: Desktop
Instruction : Use Mouse/Keyboard to play.