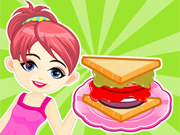 Baltimore Sandwich Shop
Baltimore Sandwich Shop is hiring people, guys! And this is not just another sandwich joint. If you are adept in handling many customers at a short span of time, without messing customer orders, no matter what crowd, you are supposed to be here.
5.0
/
5.0
-
1
Users reviews
2015-03-05 04:23:51
942
OS: Desktop
Instruction : Watch the bubble over the customer head and drag the ingredients in the same order and deliver them to the customer. Mistakes are alright, but should be dragged to the bin. Keep customers happy and never miss any of them. Do collect money, from happy customers and meet the target to play the next level.