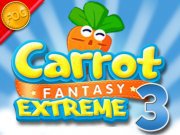 Carrot Fantasy Extreme
Carrot Fantasy Extreme is a fantasy-themed tower defense game! Protect your carrot from various monsters by placing different creatures along the path to help slow down and attack enemies. Every creature has a different ability, so place them wisely. You can also upgrade them to help make things even easier! Don't forget to destroy your surroundings so you can make more room for defenses!
5.0
/
5.0
-
1
Users reviews
2015-03-04 06:51:23
1126
OS: Desktop
Instruction : Place defences - Use mouse to place defences on the screen.