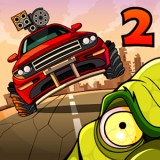 Earn to Die 2: Exodus
We need you! Reallyyy! There are so many zombies and they have captured your city, so you are the only one who can kill all of them just driving a car. As many zombies, so much money. Do not forget to buy weapons and upgrade your car. Good luck to you!
5.0
/
5.0
-
2
Users reviews
2015-05-28 01:56:20
1755
OS: Desktop
Instruction : Use Mouse/Keyboard to play.