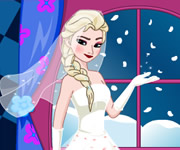 Elsa Wears The Wedding Dress
The lovely bride-to-be Elsa comes to the wedding dress shop. First of all, we need to make a body care and makeover for her. Then we should choose a favorite wedding dress for her! Have fun!
5.0
/
5.0
-
1
Users reviews
2015-04-27 08:46:56
775
OS: Desktop
Instruction : Mouse to play.