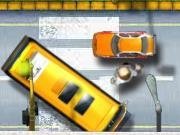 School Bus License 2
School Bus License the is an american School Bus Driving Simulation Game. Your aim in this game is to get through a set amount of test that will teach you how to drive a school bus. You will learn everything from parking, reversing and driving a bus full of children through harsh weather conditions etc.
5.0
/
5.0
-
1
Users reviews
2015-03-04 07:00:47
3073
OS: Desktop
Instruction : Use the arrow keys to drive, but make sure you don't hit anything or you'll fail.