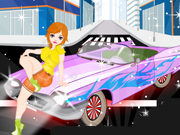 Super Car Decoration
The auto show is on and car lovers are all eager to set their eyes on the latest cars and beautiful women who might endorse the cars. Decorate the car for trendiest looks and groom the model with best accessories so that she is just perfect near the stunning car.
5.0
/
5.0
-
1
Users reviews
2015-03-05 04:26:45
995
OS: Desktop
Instruction : Click on the icons lined vertically on the screen right to accessorize the model and give the car new lights, color, seat, stickers, alloy and neon glow. Click the show icon when you have finished playing the game.