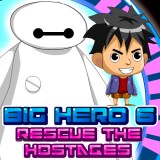 Big Hero 6 Rescue the Hostages
You are welcome to the really strange world, where you will play as a Baymaxa and Tadashi. So, invite your bests and play this game all together! Try to avoid all the obstacles and you will have so much fun. Enjoy it right now.
0.0
/
5.0
-
0
Users reviews
2015-08-06 08:46:02
926
OS: Desktop
Instruction : Use Mouse/Keyboard to play.