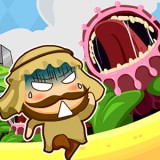 Rich Man Island Survival
Have you ever been in such a strange place? Then just try it right now and help this rich man to collect all the gems and avoid all impediments here. So, everything depends on you now just use the space and mouse to control this guy. You will really cope with it!
0.0
/
5.0
-
0
Users reviews
2015-10-09 04:02:34
1948
OS: Desktop
Instruction : Use Mouse/Keyboard to play.