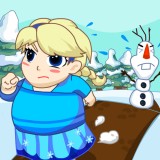 Elsa Field Loss Weight
Frozen queen Elsa likes to eat all kinds of dessert cake, resulting in her weight is increasing, became a fat queen. So she determined to lose weight, and Olaf together to field running and climbing, across a variety of hazards, let us to lose weight and Elsa!
4.0
/
5.0
-
1
Users reviews
2015-08-21 06:23:04
1335
OS: Desktop
Instruction : Use Mouse/Keyboard to play.