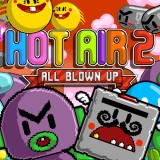 Hot Air 2 All Blow up
In Hot Air 2, a cool adventure puzzle, the aim of the game is to move your balloon with the fan and blow it to safety to complete the various levels! Use the fan to control the direction and how fast your balloon is moving and don't forget to collect the stars for more points along with keys to unlock the gates! You can save your progress too!
0.0
/
5.0
-
0
Users reviews
2015-07-13 07:50:30
921
OS: Desktop
Instruction : Use Mouse/Keyboard to play.