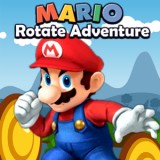 Mario Rotare Adventure
Mario needs your help! He can rotate the whole world, really! So, just use arrow keys to move and collect all the stars here. There are also some obstacles, so avoid any of them and you will be not disappointed. Have fun and pass all the stages easily.
5.0
/
5.0
-
1
Users reviews
2015-05-26 08:58:09
765
OS: Desktop
Instruction : Use Mouse/Keyboard to play.