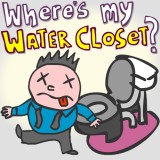 Where's my Water Closet?
Have you ever seen that? Just be ready to click in the right moment and help this guy to reach the toilet! Do you think that it is so easy? Well, then just try it and you will cope with it. With the every next step it could be more and more harder.
0.0
/
5.0
-
0
Users reviews
2015-07-24 01:48:54
1006
OS: Desktop
Instruction : Use Mouse/Keyboard to play.